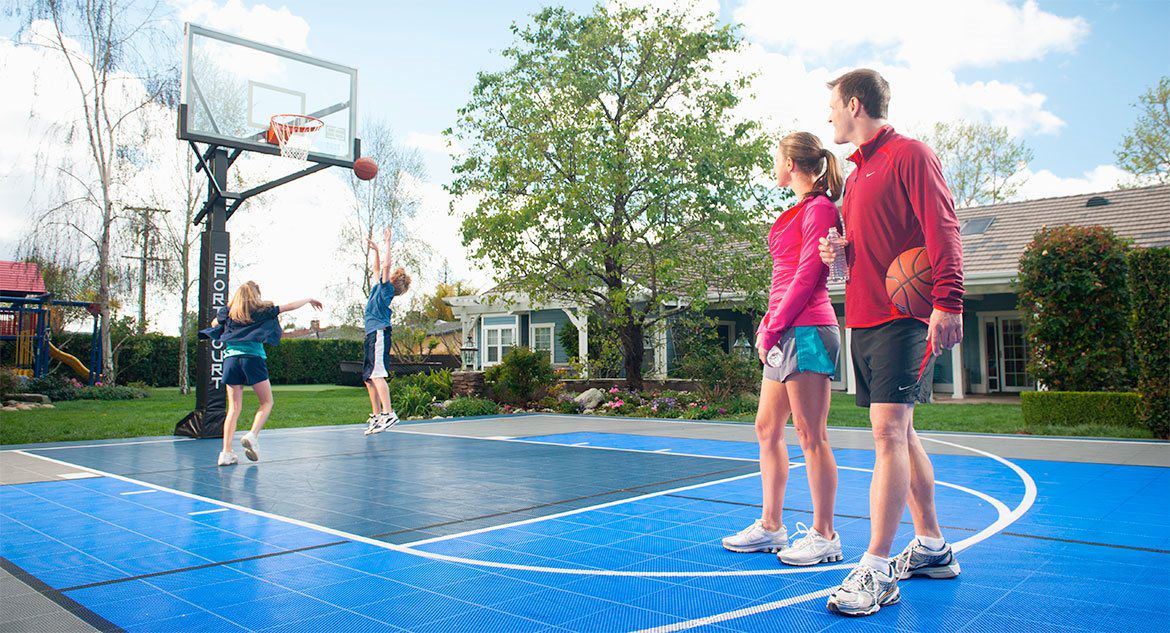 THE ULTIMATE SPORTS

EXPERIENCE.



We know our way around indoor and outdoor sports flooring because we've been doing it for 15 years. At Sport Court Southern Utah, we offer low priced and safe sports flooring which requires minimum maintenance . Our quality installations surpass the expectations of even the most demanding coaches, athletes, builders, architects, and facility owners. We take care of the details so that you can focus on the game.
GYM FLOORS FOR ANY EVENT.



Our courts aren't just made for the big game. They're made to bring people together. Traditional wood floors are a thing of the past. Also, you need not worry about having to re-surface your Sport Court floor every year, and you can count on excellent traction and shock absorption and a professional look.
Take it to the next level with a Sport Court gym floors.
CREATING OUTDOOR CHAMPIONS.



We know that you love athletics. That's why we pour as much love and care into your new court as you do into your hometown. We can turn that open neighborhood space or building floor into a place where people can get a great workout and mingle. A space where important values like honesty and sportsmanship are developed.
You want the best court and we use the best and finest products. Our depth of knowledge and commitment to excellence makes all of the difference.
Hometown CourtBuilder™. Our neighborhood team has years of experience.

Swift install. Floating installation can take as little as five days and isn't messy.

Safety first. With variable shock absorption, minimal skin abrasion and patented lateral forgiveness, you don't have to worry about injuries.
Custom designed. We work with you to create the court you need.

Minimal maintenance. Occasional mopping and auto-scrubbing needed.

15-year warranty. Unbeatable protection.

Minimal lifetime costs. Doesn't need resurfacing for 15+ years .

Multiple uses. Allows you to diversify your athletic programs.
Sport Court South has constructed several outdoor and indoor courts in southern Utah.



Public and private schools

Church and family life centers

Community centers
Pay-for-play sports centers

Parks and recreational facilities

Camp facilities
Events and tournament sites

Sports clubs
"We are very pleased with our Sport Court surfaces at the Boys and Girls Club. At all five of our gyms we have the Sport Court product, which has proven to be strong, durable and affordable. We are especially pleased with the new Maple Select floor. It has the look and play of a real parquet wood floor."



Jerry Glidewell, Executive Director Fort Smith Boys and Girls Clubs



Frequently asked questions.



Does Sport Court® sports flooring require a climate-controlled building?
Unlike many other sports surfaces, our gym floors perform well in a wide variety of climate conditions. Extreme humidity, cold temperatures, or heat generally don't present any problems in playability.
How does a court from Sport Court Southern Utah compare in cost to other alternatives?
Our courts are typically less expensive than even the basic suspended wood systems, and they compete well with most other synthetic alternatives. Even alternatives like asphalt and concrete that are initially inexpensive have costs that arise over the long term. Over the life cycle, Sport Court's low maintenance costs and extended durability will continue to save you money year after year after year. Ask your CourtBuilder for more detailed information about the costs for your specific space so that you can accurately compare with other options.
How is Sport Court flooring affected by moisture?
Unlike wood and most other synthetic floors, our indoor and outdoor modular sports floors are virtually unaffected by water. This includes vapor from concrete slabs or subsurface as well as submersion or flood.
Does Sport Court use any hazardous chemicals or materials in its manufacturing process or installation?
No. In fact, we are the only ISO 14001 sports flooring manufacturer in the United States—the international standard for environmental controls.
What colors do you offer?
Almost any color you can imagine. We'll provide you with our standard palette of over 20 stock colors, or we can match any PMS color you prefer.
What makes Sport Court Southern Utah different from others?
With over 40 years of experience, a 96% satisfaction rating, and 150,000 courts installed worldwide, we can say without reservation that we make the best courts for the best price. We pride ourselves on using only our own certified CourtBuilders (no side jobs) to install and complete your project from start to finish. And with independent safety testing, we know this will be a safe place for your family for years to come.
How long does it take to install a floor?
Sport Court flooring can be installed, striped, and ready for play in less than a week.
How long will a Sport Court floor last?
Our modular sport floors are covered by a 15-year limited warranty, and we expect them to deliver playability, safety, and durability for even longer.
Does Sport Court flooring provide any safety benefits?
Our patented Lateral Forgiveness™ technology provides protection against stress on limbs and joints. We can also adjust the shock absorption value to almost any level you'd like.
How well does the ball bounce compared to other basketball floors?
DIN-certified basketball floors must deliver a minimum 90% ball response, but we don't believe in bare minimums. Our modular surfaces range from 93% to 100% ball response.
How does maintenance compare with other sports floors?
Sport Court modular surfaces require less maintenance than most others. We recommend regular dust-mopping and intermittent mop cleaning.
Why do you call Sport Court floors "multipurpose" sport surfaces?
Most sports surfaces have limitations. Sport Court modular courts can be used for almost any activity in almost any type of facility.