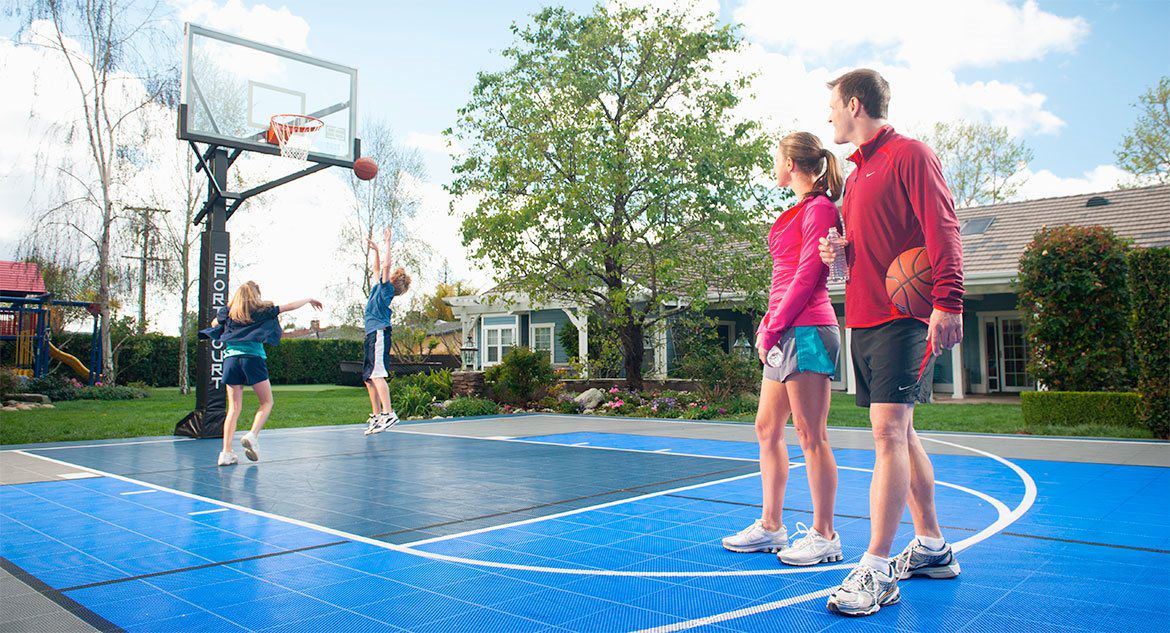 YOUR CREW, YOUR GAME,

YOUR COURT



If you love the regular family pickup game of basketball, soccer or volleyball, but can't fit your time together into everyone's schedules, Sport Court Southern Utah can help you. Get together for quality time and the game of your choice whenever your family is ready.
Every Childhood Has One — the Hangout House



This is about more than getting up and getting active. Have a place where your family can play, train and build relationships.
Know where your children are and who they're spending time with.

Create a multi-sport game court to let your child find their passion or a dedicated basketball or tennis court to take their training to the next level.

There's a court to fit every famil...More
Know where your children are and who they're spending time with.

Create a multi-sport game court to let your child find their passion or a dedicated basketball or tennis court to take their training to the next level.

There's a court to fit every family, every space and every budget.

By telling us the sports you love, we can find the perfect surface for you.

Don't waste time on landscaping chores — spend it playing on your home court.

Childhood isn't long enough. Watch your family grow up on your own court.
Less
Created for Your Future Gold Medalist.



Your family and your needs are unique. The things that make you one of a kind can be worked into the customizable features of your backyard court or home gym. Be unlike everyone else from top to bottom.
The Ultimate Home Court Checklist:
Pick your flooring: indoor or outdoor

Court components: adjustable basketball hoops, variable-height net systems, volleyball and tennis nets, sports equipment packages, rebounders.

Light it up: light poles with LED and incandescent bulb options.

Keep control of your ball with: wall padding or fencing

Complement the area with: batting cages, golf nets, trampolines and climbing walls
Your children have dreams of playing on an NCAA® volleyball court, USTA® tennis court, and FIBA® basketball court. Don't make them wait. Our courts deliver protection and performance in the form of shock absorption, ball response, traction and playability.
Built with the best materials

Created to fit any size family or budget

Don't get stuck on one game, with maximum versatility multi-sport courts
Frequently asked questions.



How much room do I need to fit a Sport Court game court in my yard?
Sport Court game courts are custom-designed to fit the space in your yard. Almost any size or configuration is possible. Download our 10 tips for custom court building to help you understand the process.
What is the time frame for installing a game court or home gym?
We recommend planning on 4–6 weeks from the first time you meet with your CourtBuilder; until the day the court is ready to play on.
May I pick more than one color for my game court?
We hope you will! Sport Court game courts offer plenty of color options that yield countless combinations. Check out our CourtBuilder app to start designing your court now.
Do you offer custom designs on game courts?
Yes! Our process is all about creating your very own personalized, custom court. You can browse our gallery to get some ideas; then on our visit we'll help you finalize them.
If the sports surface becomes damaged, how difficult is it to replace?
Some of our courts were installed over 30 years ago and are still in play. While any damage is unlikely because our sport flooring is made of durable polypropylene, it's very easy to swap out any tiles that need to be replaced, and every court is backed by our manufacturer's 15-year warranty.
What does it cost to build a Sport Court game court?
We've built small shooting courts for as little as $10,000, but courts range in price based on size, materials, accessories, and configuration. That's why we meet with you to identify your family's needs before providing an exact quote. We work within your budget to help you get the most for you money.
How do I maintain my Sport Court home gym flooring?
This couldn't be easier! For home gym owners, all you need is regular dust-mopping and the occasional deep clean from a wet mop.
How do I maintain my Sport Court outdoor game court?
This is simple and easy. A broom, blower, or hose can be used to keep the top surface free of debris. Water will drain quickly through the open grate, making sure your court is ready for play soon after cleaning or inclement weather.
How long has Sport Court Southern Utah been in business?
We have been building quality game courts and backyard recreational facilities since the 2003. In fact, Sport Court invented the backyard game court. No other company has been around longer or built as many courts, so you can be assured we will be here to service you for years to come.
Why is the Sport Court outdoor surface important? Can't I just play on painted concrete?
This is about the safety of your children, and no other outdoor sports surface can deliver a better combination of shock absorption, ball response, traction, and playability than our PowerGame™ outdoor modular flooring. With the combination of a PowerGame surface atop our patented SportBase™, heads are protected from injury from falls of up to 46 inches. Our other sport flooring options offer comparable safety benefits.
How long will a game court last?
Our modular sport floors are covered by a 15-year limited warranty, and we expect them to deliver playability, safety, and durability for even longer.
Is the surface slippery when wet?
Almost any surface can be slippery when wet. However, Sport Court's open-grid design sheds water quickly, making it possible to return to action sooner than any other surface.
Do I need a permit to build a backyard court or home gym?
It depends on your neighborhood. We have experience in working with municipalities and neighborhoods to help you navigate the required regulations.
Why do I need a visit from a local CourtBuilder?
Every court we build is customized to meet your needs and fit the space where it will be built. When you're ready for a visit from your CourtBuilder, we'll talk with you about your goals for the court and survey the site where it will be built. We'll then be able to offer you an accurate quote on the court of your dreams.
Are you licensed and insured?
Yes, we carry all the necessary insurance to keep our employees safe and protect you from any liability.